Your Friend Obsessed With Evil Eyes is Going to LOVE This Palette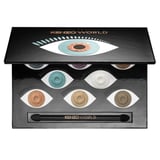 Makeup– and fashion-lovers have been going nuts for designer makeup lately (TonyMoly x Moschino anyone?), but our world was flipped upside down when we discovered the Kenzo World Eyeshadow Palette ($60). The luxe product – the first in makeup for the brand – comes in a glossy black container featuring a graphic bold eye, and the motif is repeated inside the palette, with each of the eight shadows also in an eye shape. Included with the product is a dual-sided sponge applicator to apply each of the shimmery washes of color to your eyes and a sample of the Kenzo World fragrance.
The product is exclusively available at Net-a-Porter and is shooting to the top of our holiday lists. It's a great gift for any fashion or beauty fan in your life.