Will Eating Almonds Help With Weight Loss? I Tried It For 3 Weeks to Find Out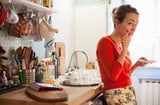 I do intermittent fasting, which means my first meal is lunch. I'm not hungry all morning, but I'll tell you, when lunchtime rolls around, I am ready to eat! I would sit down to my meal-prepped Buddha bowl and basically inhale it within 10 minutes. Then I'd reach for more food because I still felt hungry, or rather felt the need to eat more. I would end up overeating so much that I'd feel uncomfortably full and bloated. I also started to gain weight.
"I do intermittent fasting, so what the hell!" I'd think to myself. Eating too much during my feeding window was definitely one of the mistakes I made when I started intermittent fasting almost two years ago. But even now, I still have my moments where I overeat. That is, until I heard about this little trick on a podcast I was listening to about healthy eating.