Why Yes, These Gorgeous Harry Potter Spoons Will Give Your Food That Magic Touch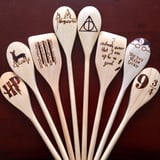 Every home cook knows that while we love tasting our creations, accumulating a wide variety of fun cooking products is another big reason to fire up your burners. And while we're obsessed with our as-seen-on-TV zoodler, we have a hunch that even Draco Malfoy would agree these Harry Potter Wooden Spoons ($11 for one, $68 for the collection) will become your cast iron skillet's new best friend.
Scroll through to get a look at these gorgeous wooden spoons, which feature whimsical images of everything from Hogwarts to platform 9 3/4. Pro tip: keep in mind that although these spoons are technically dishwasher safe, the seller recommends that you hand wash them.