What's In Fenty Beauty's Chill Owt Collection? Everything You Need For Icy-Hot Holiday Glam
Rihanna, if you're reading this, know I'm experiencing some incredibly mixed feelings in regards to your latest launch. I'm beyond excited because everything looks fantastic, but I'm also totally overwhelmed just last week, we got four new shades of the Stunna Lip Paint, and now this? I can't keep up with all this goodness, and now that I've seen exactly what's in Fenty Beauty's Chill Owt Holiday Collection, I know it's yet another group of incredible products that I will absolutely be buying. RiRi, you've done it again, and I love you, but my wallet hates you.
Fenty Beauty has been absolutely conquering the beauty world ever since its launch in September 2017, and while last year's galaxy-themed holiday collection was good, this year's fire-and-ice-inspired line, the Chill Owt Collection, is even better. We're talking about all new products, the brand's first-ever highlighter palette, and the most perfect combination of cool and warm tones a collection has ever offered. Just take my money, I don't need it. I only need the products in this collection, which we will now proceed to Ooh and Aww over one by one. Let's begin.
There are seven all-new metallic highlighter shades in the octagonal palette, from a fiery red to a pale baby blue Elsa from Frozen would definitely approve of.
Fair warning: These ultra-pigmented shades aren't for the faint of heart. These swatches are everything, tho:
Liking the shimmer so far? It only gets more intense. Next up in the collection are three sets of multi-use eye and lip crayons, each containing three different shades.
The Frost Money Metallic Lip & Eye Crayon 3-Piece Set ($36, fentybeauty.com) is the cool-toned set, Frost Hunny ($36, fentybeauty.com) is the warm-toned set, and Frost Bunny ($36, fentybeauty.com) is an icy pastel blend that falls somewhere in between.
Should I be an ice princess for Halloween? The Frost Money trio makes me think it would be a super easy lewk to pull together using just makeup:
The Frost Money trio consists of three shades: metallic blue-gray "Slush Fund," vibrant blue "Igloo Bloo," a majestic, jewel-toned purple called "Smokin' Purp." Seriously, who names the shades at Fenty? If it's not RiRi herself, whoever it is should get a raise, because wow.
Maybe I'll scrap the ice princess idea and go for something warmer, because the Frost Hunny trio is def a little bit more wearable, IMHO:
This trio features the dreamiest of sunset shades, including metallic burnt orange Sunfrost, sparkly bronze Ice Dunes, and terra cotta Pretty Penny. Pairing any of these on the lids with a good tan (or a hearty application of bronzer) is a recipe for sun-kissed perfection, even in fall and winter.
Frost Bunny is the last of the three trios, and it's sort of like a more pastel, icy take on Frost Hunny. See what I mean?
The brand describes soft metallic yellow Banana Frost, soft metallic pink Parka Princess, and metallic rosy bronze Guava Mint as shades that combine "the best of frosty pastels and fiery chromes," and I can totally see it. Attention, all neutral-lovers: Something tells me this is as close to tame as this collection gets, so "Frost Bunny" might be the trio for you.
Since lots of beauty-lovers tend to prefer either cool tones or warm tones, it's especially convenient that RiRi has created bundles using only one or the other type of shades, since buyers can pick whichever undertones suit them best. Just as she did for the lip and eye crayons above, she's created trios of cool and warm shades of lipsticks that, at first glance, appear to be her Mattemoiselle Plush Matte Lipsticks ($18, fentybeauty.com), but aren't matte at all like much of this collection, they're actually full-on frosted!
These shimmery sheer metallics are seriously the lippies I never knew I needed. "Cuffing Season" is a frosted hot pink, "What's Your Numb'a" is a frosted gold, and "So Chilli" is a frosted papaya reddish orange.
I can already picture myself sheering out gold "What's Your Numb'a" over my other lippies all winter long. Can you say perfection?
Rihanna has had quite a few unique lip shades for Fenty in the past, but these have to be some of the wildest in the best way possible, of course. "No Chill" is a frosted periwinkle," "Frost $auce" is a frosted rose gold, and "Fog Snog" is a frosted purple-gray that I will now be planning all my Halloween looks around, because wow yes.
Finally, there's one more new product to behold, debuting in seven stunning shades that are, as of now, only listed on the Fenty Beauty site in a set: the Avalanche All-Over Metallic Powder Set ($99, fentybeauty.com):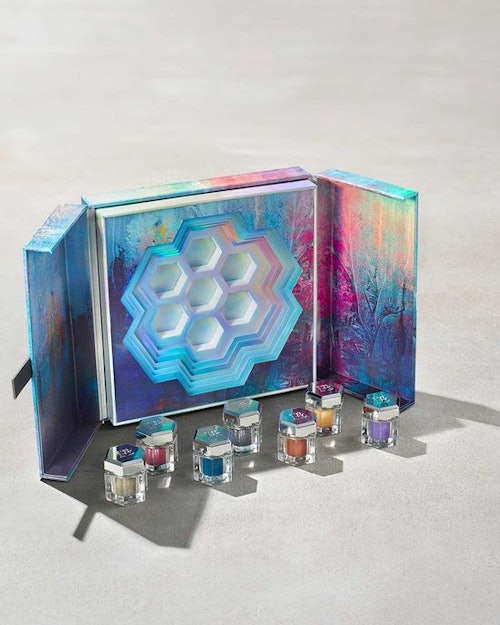 Am I about to drop an entire Ben Franklin on this set? Yes ma'am, I absolutely am. These frosted metallic powders can be used on the eyes, cheeks, and lips, and I intend to do all three, at the same time, every day from now on. In all seriousness, though, my life was meaningless before RiRi made loose pigments a thing again. Thank you, Rihanna, for reminding us why no eyeshadow palette can replace the magic of a good loose pigment.
Basically, this is my new everyday lewk. Please file any and all complaints with RiRi and the Fenty team, because I'm too busy being a frosty kween to listen:
Do you understand now why this launch has me so overwhelmed? It's seriously so good, and I need everything in it. I would've been thrilled with some new shades of the Fenty favorites I already love, so for RiRi to go the extra mile and grace us with so many new products is above and beyond.
She also included two mini ornament-themed bonus items in the collection: a Mini Fairy Bomb ($20, fentybeauty.com) in iridescent pink shade "Candy Sparks," as well as the Two Lil Mattemoiselles Chill Owt Edition Plush Matte Lipstick Duo ($19, fentybeauty.com), an ornament-housed duo containing shades dusty rose "Spanked" and burgundy "Griselda."
This tweet describes exactly how I feel about this collection:
And honestly, this one, too:
Once you've saved up enough, you can snag the entire collection when it launches on the Fenty Beauty site on Friday, Oct. 12 but I swear, if the Avalanche loose pigments are all sold out before I have a chance to buy them for myself, you and I are going to have a big, big problem. In honor of the Chill Owt line, I'm considering rewriting Rihanna's hit song "B*tch Better Have My Money" as "B*tch Better Take My Money," or even "B*tch Better Have My Loose Pigments." LMK which is better.