We Compared 8 Top Selling Lululemon Bras So You Know WTF You're Buying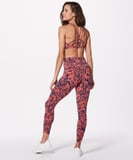 Let's face it; sports bras can be tough to shop for. They need to be functional and supportive, but they should also be pretty enough to be seen peeking through a tank or rocking on their own. Lululemon has got cute, supportive sports bras down, but it can be tricky figuring out which one to pick, especially when they've all got strappy backs! We've done the tough work for you and broken down the differences between eight of Lululemon's most popular bras, so all you have to worry about is working on your downward dog.
Whether you like a lightly supportive bra or need all the structure you can get, these eight options are here for you. No matter if you're breaking a sweat every single day or your primary mode of movement is the walk from the couch to the kitchen, these are the sports bras you want to be in. Just keep reading to shop our picks.