Watch Figure Skater Alexandra Trusova Land an Impressive 5 Quad Jumps During Her Free Skate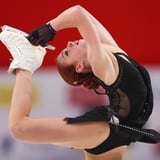 I'm still riding a high from the 2021 Summer Olympics (Medals! Sportsmanship! All the feels!), but Russian figure skater Alexandra Trusova's performance at the 2021 Russian national senior test skates this weekend has me all excited for the Winter Games, which are happening just around the corner in Beijing.
The 17-year-old wowed the crowd by landing a grand total of five quad jumps during her routine, which included music from the Cruella movie. While this routine in particular has us excited to watch all the figure skating competitions in Beijing, Trusova herself isn't getting too excited just yet. "I often skate well at the test skates, better than at competitions, so I will try even harder to succeed in competitions," she told Russian TV after her performance. Watch the impressive video above.