These Soft and Stylish Long-Sleeve Layers Are Perfect For Chilly Fall Runs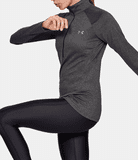 If you're heading outside for an early morning run, it's pretty nippy out there! A tank top and shorts just won't cut it anymore, but it's not quite cold enough for winter running gear.
Ahead are some of our favorite long-sleeve shirts to wear when the temps begin to drop. If you get really cold, pair these layers with your favorite vest or windbreaker.