The Fitness Marshall's New Dance Video to Kelly Clarkson's "Heat" Is the Midday Break You Need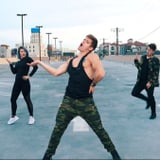 We enjoy The Fitness Marshall's dance workouts because we don't feel pressured to be Beyoncé-level backup dancers. The Fitness Marshall is always coming up with choreography that's suitable for any level, and we're currently loving his new routine to "Heat" by Kelly Clarkson.
"Thing are heating up in this video. This is one of the less serious dances I've done in a while," TFM told POPSUGAR. "All you have to know how to do is smile, have fun, and jump around!"
Check out his super-fun and easy choreography in the video above.