The Best Stocking Stuffers For Your Toddler, No Matter Their Interests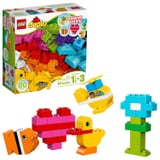 Once your teeny baby becomes a toddler, personality development goes into overdrive and you find yourself with a curious little one who has so many interests (granted, some of those interests may be the neighborhood garbage men or the actual trash can in your kitchen). If you're stuck over what to get your toddler for the holidays, the key, in my opinion, is a bunch of little gifts that will keep them busy in different ways.
Check out our favorite small gifts for toddlers that will make their stockings so much fun to open.