The Best At-Home Acne Treatments, According to Dermatologists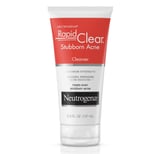 In an ideal world, Serena Williams could teach you how to serve, Jeff Bezos would show you how to shop, and Mario Dedivanovic hosted free Instagram seminars. Unfortunately, this is the real world we're dealing with, and getting advice from the pros isn't always so easy. Luckily for acne sufferers, however, this is the beauty equivalent: we've asked top dermatologists across the country to share the best at-home treatments that can give you clearer skin.
Even better news for people who can't swing Kim Kardashian's $1,755 skincare budget (so, everyone?), the drugstore is bursting with effective, affordable options. Ahead, you'll find a plethora of tried-and-true acne fighters that experts recommend on the regular – including a few wildcards, like a silk pillowcase and antidandruff shampoo – so you can stock up safely. The only thing to avoid: "essential-oil-based acne treatments and charcoal masks because of their lack of effectiveness and risk for allergic reactions," said dermatologist Laura Haygood, MD, FAAD. Doctor's orders.