The 1 Brand to Give Your Fanciest Friend This Holiday Season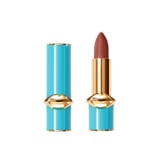 It can be a headache to find the perfect gift for your fancy friend who enjoys the finer things in life, but luckily Pat McGrath has you covered this holiday season. The legendary makeup artist is launching a limited-edition collection that will please even your pickiest friends with its luxurious packaging and otherworldly hues.
Your friend will shriek with excitement as they unwrap the royal packaging of the three new MTHRSHP Eye Palettes ($55 each) and the candy-hued packaging of the new MatteTrance Lipsticks ($38 each). The entire collection debuts on the brand's website on Oct. 18, but until then, you can lust for the products ahead.