Swap the Butter in Your Baked Goods With These Healthy Alternatives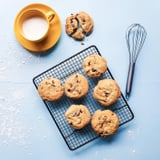 Image Source: Unsplash / Rai Vidanes
Baking calms the mind and feeds the soul, but all that buttery goodness can pack on the pounds. If you're looking to make healthier baked goods, omitting some or all of the butter from your favorite recipes can greatly reduce the calories, fat, and cholesterol. Here are healthier alternatives that bakers can use instead of butter to make light and delicious baked goods. Bonus: these alternatives are great for vegan bakers, too!
Image Source: Getty / Wilatlak Villette
Yogurt: Replace half the amount of butter in your cookie recipes with half the amount of yogurt (non-dairy works, too). For example, if the recipe calls for one cup of butter, use half a cup of butter and one quarter cup of yogurt. You'll reduce the calories and the saturated fat. Play around with using more yogurt and less butter to see if you still like the taste and consistency. Try this recipe for protein banana bread made with soy yogurt.
Prune purée: Prune purée makes a low-calorie and low-fat alternative to butter. Whatever amount of butter the recipe calls for, replace it completely with store-bought baby food prune purée (unless you have time to make your own; just purée prunes in the food processor). This option works well in recipes that involve chocolate and cinnamon.
– Additional reporting by Lauren Harano