Shawn Johnson and Her Husband Did the Not My Arms Makeup Challenge, and Her Poor Eyebrows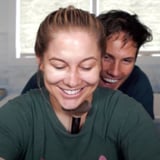 Yep, Shawn Johnson and her husband Andrew East tried their hands (literally) at the Not My Arms Makeup Challenge, and it went just as well as you might have expected. Made famous by beauty vloggers on YouTube, the challenge usually results in what can only be described as a makeup artist's worst nightmare. Following with the rules of the challenge, East sits behind Johnson and loops his arms through hers to apply some of her favorite beauty products, including Tula's Hello Radiance Illuminating Face Serum ($68) and a roll-on Tula Cooling and Brightening Stick ($30). While Andrew does a pretty good job to start with, it's when the concealer comes in that things start to get . . . messy.
Johnson also takes a shot at the challenge and applies a few products to East's face that leave him absolutely glowing. Watch the full, hilarious video here to see East put his own unique spin on what it means to fill in your eyebrows, and to see Johnson talk about dealing with acne, stretch marks, and more.