See Each of the Mega-Pigmented Shades of This $16 Morphe Palette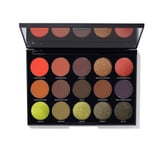 You can get a lot of things for $16 – 16 items from your local dollar store, three to four gallons of gas for your next road trip – but rarely will you find a makeup palette for that price with extremely wearable shades that are as opaque as the Morphe Your True Selfie Artistry Palette.
The palette is a part of Morphe's holiday collection, and features 15 shades that include matte neutrals and shimmering brights. It's available now for purchase on morphebrushes.com for a limited time. We swatched the shades on this week's edition of Swatch With Us on Instagram – check it out to see the swipes in real time or keep reading to see the entire range.