Season 4 of Trolls Is Hitting Netflix in November, and Thank Goodness For More Poppy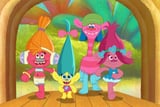 Netflix is ensuring that you never have to sit through the same episode of your child's favorite show 30 times in a row ever again in 2018 (lookin' at you, Mickey Mouse Clubhouse). Thanks to its serious ramp-up of kids' content in terms of pumping out original series faster than seems humanly possible along with its ever-growing rotation of both classic and new TV series, Netflix has your kids' backs (and, in turn, yours).
Scroll through to see which TV shows Netflix has on offer in 2018 (and don't forget to bookmark this page, as we'll continue to add new items each month!).