Santa's Waistline Is About to Get a Lot Smaller With These Keto Gingerbread Doughnuts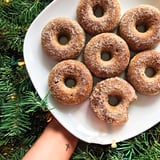 Do you get overwhelmed by all the classic, delicious, sugar-filled, unhealthy treats that make their rounds during the holiday season? Why not mix things up this year and try something that will not only taste amazing but also fuel your brain, give your body energy, and promote it to burn its own fat as fuel? I have just the thing you need: gingerbread doughnuts. These delicious, soft, moist (sorry if you hate that word, but unlike a lot of keto baked goods, these are not dried out at all!), insanely flavorful doughnuts check all the boxes.
If you are new to the idea of keto, it is a metabolic state the body achieves when you greatly reduce all carbohydrates (even if the carbs are from fruit) and increase your dietary intake of healthy fats. Once your body enters this state of ketosis, it is producing ketones and using them for fuel instead of glucose (which is what your body converts carbohydrates into). Your brain will be on fire (it loves ketones), your appetite will stabilize, your cravings will disappear, and your body will have a noticeable increase in energy, as it can easily access energy stores whenever it needs to in the form of adipose tissue (aka body fat).
These gingerbread doughnuts are extremely limited in carbs and have tons of healthy fats, making them the perfect holiday treat for any keto diet! I also snuck a tiny dose of collagen peptides in there (hello to better gut health) and MCT oil, which your liver can convert directly into energy. I used Lakanto to sweeten these doughnuts, which is a zero-calorie natural sweetener that will not spike your blood sugar like regular sugar does, preventing that dreaded sugar hangover. You also don't have to be on a keto diet to enjoy this tasty treat! It will simply add some extra healthy fats to your diet, stabilize your blood sugar, and fuel your body and mind throughout the holiday season.
Gingerbread Keto Doughnuts
Lauren Holden
Ingredients
For the doughnuts:
1 1/2 cups almond flour (I use superfine)
1 teaspoon baking powder
1/2 teaspoon pink salt
2 tablespoons golden Lakanto sweetener (or other brown sugar substitute)
1/2 cup powdered Lakanto sweetener (or powdered erythritol)
1/4 cup MCT oil
1/4 cup melted coconut butter
1/4 cup sunflower seed butter
2 eggs
1 teaspoon vanilla extract
1/4 cup collagen peptides
1 1/2 teaspoons cinnamon
1/2 teaspoon ginger powder
1 tablespoon molasses (this does contain sugar but only adds about 1 gram of carbs to the whole recipe and really makes the texture amazing!)
2 tablespoons water
For the "sugared topping"
A few tablespoons MCT oil (may need more)
1/4 cup granulated golden or regular Lakanto (or granulated stevia)
1/2 teaspoon cinnamon
Directions
Grease a doughnut (or muffin) pan and preheat the oven to 350ºF. I love using a silicon doughnut pan because the doughnuts pop out super easily once they are cooked. They are also affordable to pick up from Amazon.
Mix all of the dry ingredients together in a large bowl with a handheld mixer or stand mixer (this removes any clumps).
Add the wet ingredients, except the eggs.
Gently add the eggs once everything else is mixed together well. Do not overmix. You just want to ensure everything is fully incorporated.
Scoop the batter into the doughnut pan, filling up each one to the top.
Bake for about 15-20 minutes, checking regularly, ensuring not to overbake them (this is key to make sure they don't come out dry).
Once the top slightly springs back at you when touched or a toothpick comes out clean, remove the doughnuts from the oven and allow them to cool.
For the topping, once cooled, pop them out of the doughnut (or muffin) pan and dip or brush in the MCT oil. Then immediately dip them into a shallow bowl with the granulated sugar of choice and cinnamon mixture, ensuring both sides and top and bottom get the sugar coating.
Complete this with the rest of the doughnuts, serve, and enjoy them with all of your friends and family!
Information
Category

Snacks

Cuisine

North American