Period Care Brand Saalt Is Donating Free Menstrual Cups to Hospital Workers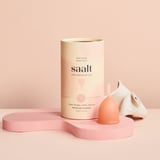 To support healthcare workers on the front lines of the COVID-19 pandemic, period care brand Saalt is donating free menstrual cups to anyone working in a hospital. "We are so grateful for healthcare workers and all those who are on the front lines of fighting COVID-19, we wanted to donate our Saalt Cups in an effort to relieve them of any period-related worries while they work tirelessly to serve others," Cherie Hoeger, CEO and cofounder of the brand, told POPSUGAR.
To receive a free menstrual cup, a hospital worker – or anyone who wants to nominate one – simply needs to send the following information in a direct message to the company on Instagram (you'll find them at @saaltco):
Name
Occupation
Photo of themselves (or nominee) at work
Saalt cup of your (or nominee) choice
Mailing address
Qualifying occupations include anyone working in a hospital, meaning doctors, nurses, technicians, security guards, custodians, and more are all eligible. The company recognizes that every member of the staff is contributing to the hospital's efforts to reduce the impact and spread of COVID-19 in their community. Get your DMs in soon, because the donation period ends on Friday, April 17.
"Healthcare workers are constantly on their feet and moving quickly in fast-paced environments, leaving little time to tend to personal needs," Hoeger explained. "It's during times like this current pandemic that we realize just how unsustainable our dependence on disposable products really is." The menstrual cup can be worn for up to 12 hours before emptying – often long enough to get someone through a grueling shift.
The donation is part of the launch of the new Saalt Soft Cup in Desert Blush ($29). For every purchase made during the cup's presale – which ended on April 8 – Saalt also donated a free menstrual cup to the United Way of Treasure Valley in Boise, ID, where the company is headquartered. "Everyone should have access to reliable period care," Hoeger said. "That was the very reason why Saalt was started years ago, to liberate and empower menstruators no matter what life throws at them."