Pasta Sticks Are a Thing and We Can't Stop Thinking About the Endless Flavor Possibilities!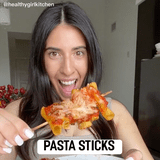 @healthygirlkitchen

You need to make pasta sticks ASAP 🤤. #pastasticks #pastatiktok #pastarecipe

♬ Outside – Ikson
Can't choose between pasta and pizza? Plant-based food blogger Danielle Brown of @healthygirlkitchen shared this simple, genius recipe for vegan pasta sticks that she said was inspired by this nonvegan version from @emilyscooking_.
You'll need:
Kebab sticks or skewers
Cooked pasta like rigatoni or penne
Marinara sauce or pesto
Vegan cheese (she used Trader Joe's cashew mozzarella)
Oregano
Just slide the cooked pasta (we say go for whole wheat or a bean pasta), top with marinara or a vegan pesto (we love Trader Joe's!), and a sprinkle of vegan cheese. You could also add some chopped veggies, corn, beans, crumbled tofu or tempeh, fresh herbs, and sliced tomatoes – the possibilities are endless! We love this quick and exciting variation of pasta for dinner, and kids will especially love it.