Old Navy's Best High-Waisted Leggings, Because Mid Workout Is No Time to Tug Up Your Pants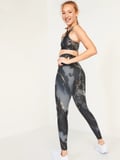 When it comes to exercising, the very last thing we want to think about is adjusting our clothes. Not only can this disrupt a yoga flow (or running pace), it's simply annoying to have to worry about pants or bra straps slipping down while working out. Sadly, we haven't always succeeded in the past but, since we've made a point of testing a ton of leggings from Old Navy, we've found several with higher waistbands that stay up through activities from stretching to spin.
Not only does this list include our personal favorites that we know need no tugging, it also includes other pairs next on our shopping list. In fact, some of these are even extra high-waisted with a band big enough to fit a phone, too. Check out our 19 favorites ahead, from cropped to full in a rainbow of colors.