Need a Manicure? Reach For One of These 12 Spring Nail Polishes From Nordstrom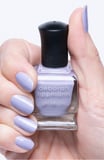 There's just something about having your nails done. When they look beautiful, you feel like you can take on the world. It can make you feel like you have your life together, even if the reality is a little bit different. We're finally in a new season, and in our opinion, Spring nails are the best nails. This season, we want pastels, neutrals, and a few bright pops of color alike to give ourselves an at-home mani. We're stocking up on these 12 polishes and polish sets – and you can find them all at your nearest Nordstrom.
Whether you're someone who likes to have a different color on every nail or change up your polish every few days, there's going to be a color you fall in love with here. These polishes are long-lasting, and they're so pretty. Just keep reading to shop our favorite picks at the retailer.