My Kids Write Thanksgiving Thank-You Cards Every Year, and I Can't Recommend It Enough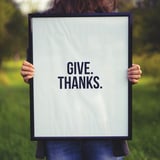 Thanksgiving is one of my favorite days. Since we live in a world where it's so easy to get consumed in our own lives and material things, I like the fact that we have a holiday that isn't about gift-giving. Instead, Thanksgiving is a time to gather with family and friends and reflect on all the blessings in our lives. That's why in my house, we've made it a family tradition to send Thanksgiving thank-you cards.
When I was a child, my father started our Thanksgiving dinners by giving each person at the table a few minutes to talk about what they were thankful for that year. That tradition has transformed a bit with my own kids. We have a "day of gratitude" during the Thanksgiving season, and last year, my kids started sending thank-you cards to a few people in their lives who bring value to them in some way.
Related: We Go Out to Dinner For Thanksgiving Because I Just Can't
Last year, our son sent out a picture and note to five people he loves. He included what he wished for them, what he loves most about them, and why they make him happy.
We actually got the idea from one of my son's TinySuperheroes missions, which is a nonprofit organization that created an online community for kids fighting an illness or overcoming a disability. When these kids sign up, they're given a custom superhero cape and officially become part of the squad. The squad empowers its superheroes by recognizing the extraordinary qualities that make them unique. Each month, they participate in a mission to spread awareness through activities focused on their amazing qualities, like bravery, strength, hope, and joy. Last year, one of the missions in the Thanksgiving season had our son sending out a picture and note to five people he loves. He included what he wished for them, what he loves most about them, and why they make him happy.
I knew right away that this would become a holiday tradition for our family. We want our kids to be thankful for what they have, even the small things. And in the midst of all the chaos and stress of life, it's easy to overlook the innumerable blessings we all have. Sending thank-you notes is mutually beneficial. It's a simple gesture that allows our kids to reflect on what's really important in life, and it can make a huge difference to the person on the receiving end of the note.
Related: 27 Restaurants That Will Be Open on Thanksgiving Day
Our son especially loves it, and his notes vary every year. Last year, he sent a note to one of his uncles, thanking him for always making him laugh; he sent a note to a local musician, thanking him for playing good music and giving him guitar picks; he sent a note to his sister, thanking her for being a good sister; and he sent a note to his doctor, thanking him for taking good care of him and helping him when he was sick. It was heartwarming as a parent to see how the little things people do on a daily basis bring memorable joy to our little kids' lives.
If you haven't had your kids send thank-you cards to a few people during the Thanksgiving season, I encourage you to do so. It's rewarding in so many ways. And our kids get extremely excited about surprising the people they love.