Looking to Combat Stress and Fatigue While Working From Home? Set Some Boundaries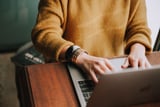 Working from home can be as challenging as it is comfortable. Sure, there's no rushing out the door or fighting morning traffic, but it can feel like you're always at work – and that can be exhausting and stressful. When your office is also your home, it can be difficult to stay productive and focused, as well as separate yourself from work at the end of the day.
"Maintaining a successful work/life balance when working from home requires discipline and patience," Bethany Blankenheim, LPC, a therapist at In-Depth Therapy, told POPSUGAR. She suggests establishing a number of boundaries in order to protect yourself emotionally and set yourself up for success. With that in mind, here are five tips for setting boundaries that can keep you from becoming overwhelmed or inefficient when working from home.