If Beans Give You Gas, This Cooking Hack Will Change Your Life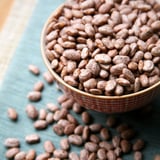 I used to avoid burritos, three-bean chili, black bean burgers, and garlicky hummus. They were just not on my menu, because beans just didn't agree with me. I love all those delicious foods, and I know legumes are a great source of protein, fiber, iron, and other nutrients, but I'd rather miss out than suffer the smelly embarrassing consequences. Unless you're a 5-year-old, farting in public is mortifying and not at all funny.
What if I told you that you could have your beans without any bloating or gas? I spoke with certified dietitian Leslie Langevin, MS, RD, CD, of Whole Health Nutrition, and here are five tips that helped me deal with beans and gas.
How to Prep, Cook, and Eat Beans
Leslie adds that if following these tips still causes symptoms, try Beano. It "contains the enzyme needed to break down the oligosaccharides as well as other hard-to-digest compounds in beans and foods like broccoli."