Here's How To Play Starbucks Rewards Bonus Star Bingo So You Score Free Drinks
In case you didn't know, eligible Starbucks Rewards members were invited to play an exciting game of bingo at the beginning of October. If you're one of those lucky contestants, you're probably wondering how to play Starbucks Rewards Bonus Star Bingo. The virtual game which started on Oct. 10 and ends on Oct. 31helps select Rewards members collect Stars in pursuit of free food and drinks. So, instead of ignoring your exclusive bingo invitation, take a moment and figure out how to play. It's not hard, I promise.
If you're just starting the Bonus Star Bingo game on Wednesday, Oct. 17, you're a week late. As I previously mentioned, the game began in the beginning of October, so you have some catching up to do. Don't sweat it, though, because per an email about the game from Starbucks to select Rewards members, "All your qualifying purchases since October 10 count towards challenges, so activate your board to see your progress." Take a deep breath and go check your inbox that's connected to your Starbucks Rewards email address. When you're there, search for the invitation (mine appeared when I searched the word "bingo" in my mailbox).
Once you find it, you'll see an invite that says, "Bonus Star Bingo" in huge letters. It'll also include a message that tells you to "collect Stars as you complete challenges and connect three in a row." In addition, the banner shows how many Stars each space and row is worth on your bingo board.
For reference, the top portion of your emailed invitation should look like this: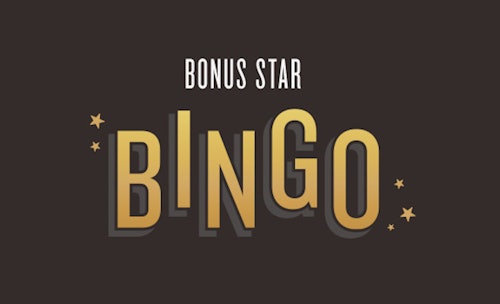 Now that you know where to find your invitation (and what you're looking for), let's talk about how to play the actual game. Thankfully, it's simple and you can start off by finding the "Activate your board" button on your invite. Click on that link, and you'll be taken to a page that'll have you log into your Rewards account. After you've gotten to this point, you're pretty much golden.
Once you've logged in, Starbucks will walk you through directions on how to play the game. It'll also provide you with your very own Bonus Star Bingo game board, which will vary from the others.
For reference, here's what one looks like: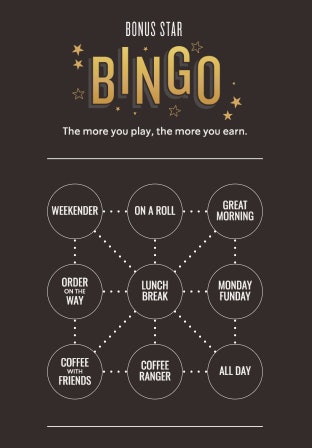 Pretty cool, right? As you can see, each circle on the game board includes "challenges" that you'll need to complete in order to fill them in. After all, the main point of the Bonus Star Bingo game is to fill in all of the spaces, connect the dots, and collect as many Stars as you can. So, what are you waiting for? Head to your local Starbucks and start completing the challenges. Elite Daily reached out to Starbucks to see what "completing a challenge" entails, but has not heard back by the time of publication.
After you make a Starbucks trip and start filling in the spaces, you'll begin collecting Stars. For reference, each space, row, and board you complete will score you a certain about of Stars. According to Starbucks' invitation, one space will land you 10 Stars, one row will land you 10 Stars, and the entire board will get you 130 Stars. After filling in the entire board, you should have a total of 300 Stars.
Unfortunately, not all Rewards members were invited to play the game. If you didn't get an invitation via email for the October round, cross your fingers that you'll be asked to play the next one. In the meantime, enjoy PSL season without getting too competitive.