Follow These 3 Simple Steps to Clean Eating and the Pounds Will Melt Off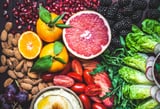 You've heard that eating clean can give you more energy (in life and at the gym) and can help you lose weight and keep it off, but how do you get started? Amanda Meixner (known as meowmeix on Instagram) has over 925,000 followers for good reason! She shares practical, relatable, and simple nutrition tips that make sense and are easy to incorporate into your daily life.
Amanda recently posted about clean eating and wrote in her caption, "While changing your habits is definitely challenging, baby steps in the right direction can really add up!" Whether you're looking to lose weight or are just trying to clean up your diet, here are three simple steps you can begin right now to start eating clean and head in the right direction. To make it easy, here's a two-week clean eating plan to help you incorporate these tips.