Do Toners Really Work? We Consulted the Experts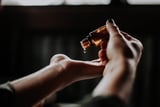 With so many skincare products on the market, it's kind of impossible to keep track of all of them. Since I started really taking care of my skin, my skincare routine has expanded from just a drugstore cleanser and moisturizer duo to a massive regimen that includes everything from eye cream to essences. Toners have always been a tricky product for me because, until recently, I wasn't entirely sure what they did; it seemed like the word "toner" was just used to describe any liquid skincare product that wasn't a cleanser, moisturizer, or serum.
My confusion isn't unfounded. Dr. Sejal Shah, a clinical dermatologist and consultant for Beautyblender, told me, "Over the last few years, toners have undergone a metamorphosis. The older generation of toners were characterized by their extreme drying effect. But the newer generation of toners, influenced by Asian skincare routines, are formulated to rebalance the skin after cleansing, prepare it for products that are applied afterwards, and even address a variety of issues."
I frequently use K-beauty-influenced toners that help balance and hydrate my skin as part of my regular routine, and after speaking with a number of dermatologists and other skincare experts, I discovered that what I know as a toner is different than what they consider to be a "traditional" toner. They helped me understand the difference between the older and newer iterations of toners and also recommended some products that can help my skin. I know that I'll be a smarter skincare shopper moving forward because of their advice, and I'm excited to continue experimenting with different products as my regimen evolves.