Attention, Pet-Lovers: These Gifts Are Perfect For the Paw-lidays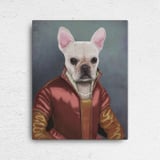 Happy paw-lidays, howl-idays, and everything in between to all the pet-loving people out there! The holiday season is just another great reason to shower the four-legged friends in your life with treats, toys, and top-notch goodies.
The pet-lover on your holiday list needs something that will double as a present for them and their furry family member, and these presents do just that. With everything from personalized pet portraits to hats specially for cats, we have something for everyone to enjoy.
Happy shopping, Santa Paws!