After You Read This, You'll Never Ask "What Should I Wear to This Workout?"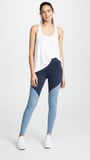 If we're trying out a new workout, we always have the same questions. Am I going to be able to move the next day, can we get food afterwards, and what do I wear? Well, worry no more. We've put together a list of everything you need for the eight most common types of workouts, because your yoga outfit can't always take you to bootcamp, and your spin shoes have no place in boxing class.
For even easier shopping, click below for your needs.