7 Antioxidant-Rich Foods You Should Be Eating For Healthy Eyes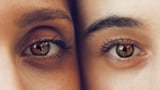 No matter your age, it's important that you take care of your body to the best of your ability. One important topic that often gets overlooked (and thrown into the "for old people" category) is eye health. Although eye health may not sound as exciting as a new circuit workout or getting strong abs, it's important to begin taking preventive measures against common eye diseases like cataracts.
In order to protect your eyes against age-related eye diseases, you should incorporate foods rich in antioxidants like vitamin C and E, beta-carotene, zinc, lutein, zeaxanthin, and omega-3 fatty acids into your diet.
The foods on this list are tasty, will protect your eyes – because scrolling down Instagram is a serious task – and will improve your overall health. Be sure to add them to your grocery list the next time you go shopping!