5-Person Halloween Costumes For Your Crew That'll Take The Cake & The Candy
Have you figured out what you're wearing for Halloween yet? Odds are, if you're reading this, you and your friends are feeling a little spooky and uninspired. Together, you've gone through all the possibilities, and nothing seems fresh and exciting enough to win the costume contest. Ghosts are too predictable, and dressing up like devils is so, like, five years ago. You thought about going to the party down the block as the Powerpuff Girls, or the characters from Mean Girls. But, then somebody would be left out! Don't worry: These five-person Halloween costumes will take the cake and the candy bars, too. In the meantime, can somebody please pass the peanut butter cups?
Let's be honest: There are two kinds of friend groups when it comes to Halloween. There are the ones that plan their Halloween costume months in advance. Every friend has a homemade T-shirt, and they research all the latest trends in pop culture to make sure that their look is on point. Then, there are crews like yours, that leave everything to the last-minute.
You scroll through the Internet looking for some ideas that are witty and witchy, all at the same time. You pitch them to the group, and they either throw a thumbs up in the chat, or a strong, "Veto." (Ugh, the search continues.) Lucky for you, you don't have to dig too far to find some solid ideas for your crew. Here are 10 five-person costumes that will definitely be approved.
,
1

Disney Princesses
When in doubt, being a Disney princess is always a good idea. You don't need an elaborate castle or even a big, puffy skirt to bring this concept to life. You just need to wear the right colors, and maybe a sequin mermaid tail or shell bra, if you're going to be Ariel from The Little Mermaid.
Everyone in your crew can pick a different princess, and there are plenty to choose from! Channel your inner Moana, or put together a dragon sidekick to be just like Mulan. Easy peasy, am I right?
2

The Ladies From 'Bridesmaids'
Romantic comedies give you a lot of laughs, and sometimes some tears. But, they can also be a great source of inspiration for your latest Halloween costume. Bridesmaids, in particular, is a classic, and super simple to recreate with your girl crew.
Get a bunch of oversized pink T-shirts and turn them into dresses, and maybe a couple of bouquets of fake flowers to carry around. You can do your hair in a sweet up-do, too, and then pose for social media. Let's be honest: A look like this needs to get onto the 'Gram.
3

The Stages Of Taylor Swift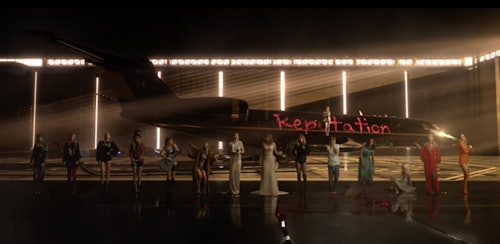 Taylor Swift's Reputation album has been taking the world by storm (if I do say so myself). From the pop jams to the more electronic and alternative tracks, it's a piece of work that you want to blast in the car with your best friends in the name of girl power.
You and your girlfriends can't help but remember the first single off the album. "Look What You Made Me Do" originally made its debut on Aug. 24, 2017, and it's full of inspiration for your group Halloween costume.
Simply dress up like past versions of Taylor Swift, like the singer-songwriter did in the music video. Get a blue dress that looks like the one from "Out Of The Woods," or cover a T-shirt in signatures like old-school Taylor in "You Belong With Me." Ta da!
4

Different Kinds Of Candy Bars
Your crew is pretty sweet, but now it's time that you show it off to the world in costume form. From the second you walk into the party, everybody will know that you and your girls can't be beat. I mean, nothing is better than a Kit-Kat bar, right?
A fun way to recreate this costume is to put a bunch of different candies in a bowl. Have every member of your crew close their eyes, and then pick a single piece out. Whatever they choose is what they have to dress up as for Halloween. Done and done!
5

Slices Of Pizza
On Saturday nights, you and your crew have made it a routine to order pizza. Nobody wants to cook on the weekend, or you're just always craving a slice of pepperoni from the parlor down the street. It's become your favorite tradition with your friends not to sound all cheesy and everything.
So, this Halloween, channel the 'za for your group costume. Make the look yourself using craft supplies, or buy a pizza outfit that will always be on-trend. When all is said and done, you're just one triangle in the pie of friendship. You couldn't go a day without your girls, or a party without your home slices.
6

The 'Stranger Things' Kids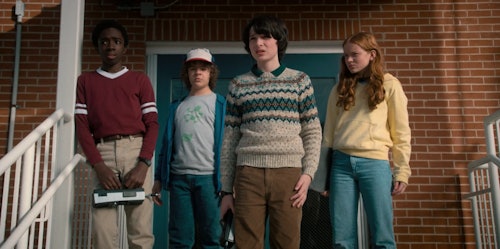 This time of the year, you just want to snuggle up with your squad and watch all the scary movies. You plan on having a marathon including: Hocus Pocus, Halloweentown, and maybe a few episodes of Stranger Things. Wait a minute that gives me an idea!
Over the past few years, everybody wanted to track down a box of Eggo waffles and dress up as Eleven for Halloween. It made sense, and is still something on my personal bucket list for #spookyszn. But, if you're looking to get your entire group involved in a costume, why not dress up as all the kids from the show? Just break out your '80s attire, maybe a leather jacket if you're going as "Dad Steve," and your favorite old-school mixtape and you'll be good to go.
7

The Members Of 'The Breakfast Club'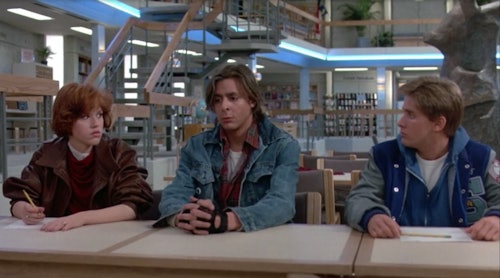 One of the most classic crews of all time comes from a beloved movie called The Breakfast Club. In case you haven't seen it, the story goes that a bunch of high schoolers get put in detention for the day. They all come from different "cliques" or groups of people within the school, and bond in those few hours that they're stuck in the same room.
Gather your crew up to watch the movie, and then pick which ones you're going to be. When you walk into the Halloween party, make sure you cue up "Don't You (Forget About Me)" by Simple Minds to get the full effect.
8

A Team Of Baseball Players
Batter up! This spooky season, you and your crew could get a little sporty. You could be a team of football players, basketball players, or Olympic gymnasts. All you need is a jersey and a medal to recreate any one of those #winning looks. But, if you really want to hit a home run in the costume contest, you should be a bunch of baseball players.
Truth is, your crew is the best team in the league of life. You support each other through thick and thin, and always feel like you're scoring when even just one of them is by your side. So, this costume is kind of perfect don't you think?
9

The Cast From Your Favorite Sitcom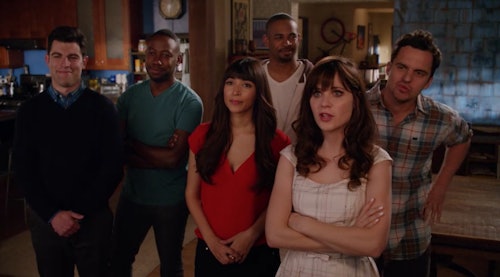 Let's talk about sitcoms. Some of us are truly obsessed with our favorite television show. You find yourself quoting The Office on the reg, or living your life in hopes that it turns into an episode of Friends. You think to yourself, "Maybe if our entire gang goes to the same coffee shop over and over again, it'll be the same as Central Perk." It's worth a shot. (Let me know how that goes, OK?)
But, the best way to become one of those character is to dress up just like one of them. Put on an apron or cute, fashion-forward outfit like Rachel Green, or layer on the cardigans like Jessica Day from New Girl. Somebody's bound to recognize you group costume right away.
10

A Bunch Of Memes
Meme culture is something only millennials would ever understand. Lucky for you, that's exactly who's going to be showing up to this Halloween party.
On any given day, you and your girls send a bunch of memes and GIFs in the group chat. You make each other laugh without saying a single world, and bond over the nonsense you find all over the Internet. For Halloween, it makes sense that you'd take these items of popular culture and turn them into real-life costumes. Maybe you'll find a frog suit and sip some tea, or dress up like an avocado and yell, "Thanks!" (You're welcome for these group halloween costumes and the candy prize.)