26 Stocking Stuffers Your Threenager, Erm, 3-Year-Old, Will Love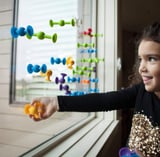 Stocking stuffers can sometimes seem like an afterthought once all the gifts are wrapped and placed under the tree, but for a toddler, unwrapping is the best part (you know it's true), so stocking stuffers have the opportunity to be the star of the show. If you're looking to highlight one or two big gifts this year but not go overboard, a bunch of small stocking stuffers your 3-year-old can meticulously unwrap are the way forward.
Ahead, our favorite stocking stuffer picks that your toddler will actually love playing with beyond the unwrapping sesh.