22 Recipes That Reuse the Leftover Halloween Candy You'll Try to Hide From Your Kids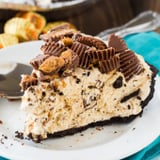 Halloween candy isn't a treat limited to the night of Oct. 31 – between spooky parties all month long, themed in-school activities, and the candy that's bought in advance of Halloween that always ends up getting eaten well before the day of, it's likely you'll be drowning in candy from about October to December. If you find yourself with an overabundance of sweet mini chocolate bars and enough Reese's Cups to start your own candy shop, there are so many recipes you can slip candy into over the course of the few months after Halloween. In fact, we recommend stashing the leftover candy away so that your kids (and you) aren't munching on straight Snickers whenever they want; rather, they'll get to eat some of it in future desserts, like cookies and candy barks.
Check out our favorite leftover candy recipes, many of which even use those rogue bags of mini pretzels that no one wants to eat when there's a perfectly good Twix to be had.